If you are looking for ways to improve radiology reports and speed up the imaging workflow, Precision Reporting is the way to go!
As part of your Enterprise Imaging Platform, Precision Reporting helps create structured imaging reports that get the message across loud and clear. So it saves time for radiologist, clinician and referrer.
Enhanced diagnostic decision-making
Imaging reports need to include all of the relevant information from a study. Yet this very depth can make it hard for clinicians to quickly find the specific details they need for diagnosis and treatment decisions. When you deliver reports with a standardized format and structure, the diagnostician always knows just where to find what they need. Including visuals and graphs helps them to understand the key messages 'at a glance', while consistent terminology ensures everyone is speaking the same language.
Faster, easier report creation
In addition to supporting timely diagnosis, Precision Reporting lightens (and speeds up) the radiologist's workload. The reporting framework guides the diagnostician through content, diagrams and graphs, annotations and more, to create high-quality reports, using standardized terminology and a consistent assessment structure. Interactive components eliminate manual input and calculations, increasing productivity and overall report quality.
Predefined templates for structured reporting
With Precision Reporting, you have the choice of pre-defined or customized report templates. Our predefined templates are designed to make it easy and fast to input accurate, consistent data. For instance, we have created two templates for the specialties of breast imaging and of prostate imaging. They include predefined graphics and fields, enabling both automated and manual data entry. These templates follow the ACR Reporting and Data Systems (RADS).
The standardized reporting also simplifies communication across different hospitals and facilitates scientific research.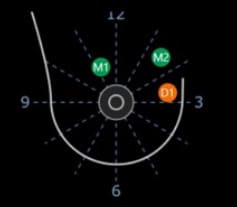 Customized Precision Reporting templates that match your exact needs
But you also need the flexibility to create templates for specific reports – and we have you covered here as well! Our professional services can help you to create custom Precision Reporting templates that can fetch data from external sources, provide specific tools or calculated fields, automatically plot data to create graphs showing trends, and more. And they can make it easier to compare the patient's historical imaging data to the current results, for better follow up.
Precision Reporting is part of the innovations launched with the latest release of Enterprise Imaging and presented at RSNA 2021. More details here.