A HealthManagement interview.
COVID-19 continues to present new challenges to healthcare providers. Recently, HealthManagement.org spoke to Bob Craske, the Department Solutions Marketing Director for Agfa HealthCare, to discuss Agfa's newest Enterprise Imaging platform that facilitates image exchange, universal viewing, and cloud-based sharing and helps create more efficient workflows throughout the health system.
"The Enterprise Imaging workflow engine has been designed to provide identical user experience regardless of location and removes the additional challenge of adopting to a different viewer or workflow."
Access the full article in HealthManagement volume 20, issue 7, 2020: click here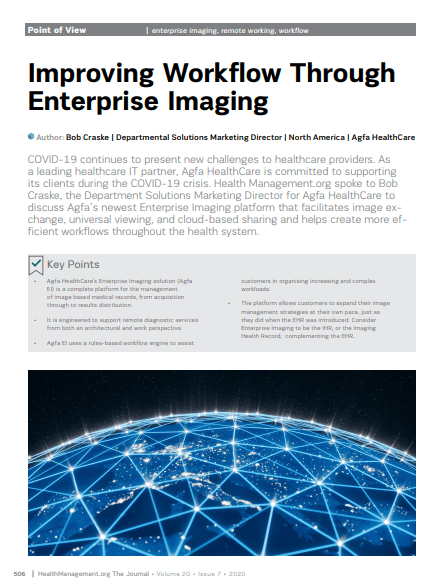 For more on the Enterprise Imaging Platform, access the Agfa HealthCare website here.
To learn more on how at Agfa HealthCare we are supporting our customers during the COVID-19 crisis, access our #StrongerTogether use cases with 10+ COVID-19 specific configurations implemented at health organisations around the globe.