Anywhere, Anytime
Microsoft Teams and AGFA HealthCare's XERO Universal Viewer, working together. Secure, virtual collaboration across the enterprise, combined with "anywhere, anytime" access to the patient's holistic imaging history.
Immediate collaboration with colleagues, wherever they are, has become even more important than ever.
By integrating Microsoft Teams and the AGFA HealthCare XERO universal viewer, using patented AGFA HealthCare technology U.S. patent # 9258297, Microsoft and AGFA HealthCare have created a secure virtual meeting space that enables "anywhere, anytime" instant connection and image sharing, all from a single, familiar platform. Care team members from across multiple specialties can meet remotely to discuss medical cases and provide treatment-decision support, for efficient decision-making and improved delivery of clinical care.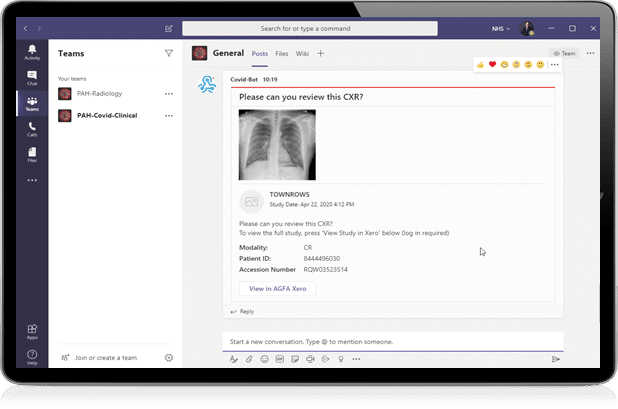 'Instant collaboration' without boundaries
Fast and secure communication between care providers is key to timely treatment. The integrated Microsoft Teams and XERO platform revolutionizes how care providers collaborate.
Instead of spending time to locate a colleague for a consult, the physician simply shares the images on the relevant channel in Microsoft Teams.
Multiple clinicians can discuss the images either by video or chat, in ad hoc or scheduled multidisciplinary team meetings.
Colleagues can join in the discussion from anywhere, with any mobile device. There is no need to log in on a hospital computer.
Remote- and home-working colleagues can collaborate and share information online, safely and securely.
Any hospital can gain access to a virtual group of specialists, spread across regions, countries and even globally.
The Microsoft Teams/XERO tool can be rolled out to different specialties at your own speed. It has already proven useful for a large number of specialties, including:
radiology
pulmonology
infection disease
critical care
neurology
ophthalmology
dermatology
cardiology
One click collaboration in your health organization
Fill out the form below and we will get in touch with more information.
Use case 1:
Ad hoc consultations that accelerate treatment decisions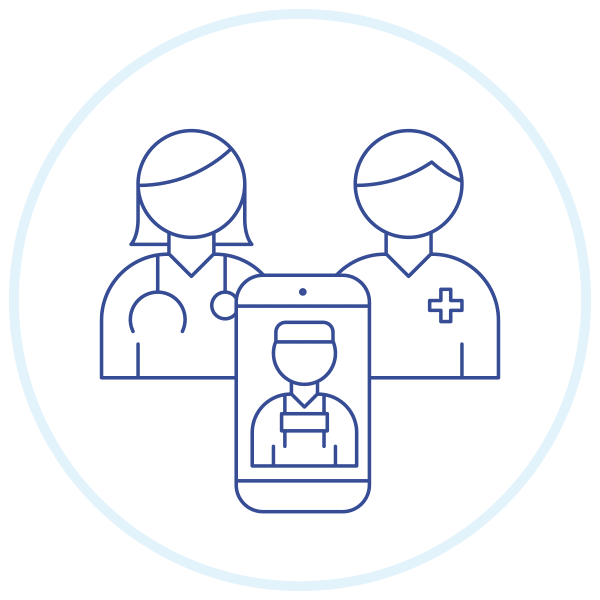 A patient comes into the emergency room during the weekend. After imaging, the physician needs a consult from a specialist, in order to determine the best treatment.
With just the click of a button in XERO, the physician shares the image with the appropriate 'expert' channel in Microsoft Teams. The specialists in that group each receive a single notification. One who is available immediately responds to the physician, in a virtual consultation. Together, they decide on treatment for the patient.
Expert Team – Engagement
One click broadcast of an image sharing link from XERO or Diagnostic Desktop into MS Teams expert team channel. Provide feedback in the chat with simple access to the images.

Accelerate treatment decisions in complicated emergency cases that require expert decision support by enabling ad-hoc virtual consultation with relevant images at hand.
Use case 2:
Collaboration sessions improve efficiency of treatment decisions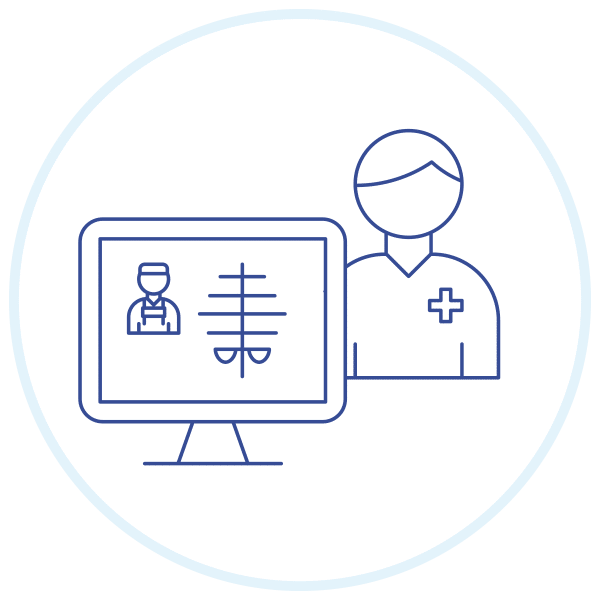 A patient comes into the emergency room, and is diagnosed with a stroke. Timely assessment and treatment are key factors in the patient's short- and long-term outcome.
With one click from XERO (or the diagnostic desktop), the physician launches a collaboration session with the stroke team. All the team members are able to immediately connect, in order to make informed and shared decisions on treatment, and to coordinate care.
Expert Team – Collaboration
One click broadcast of a collaboration session from XERO or Diagnostic Desktop into MS Teams expert team channel. Join a live discussion, dynamically collaborate in group with the images at hand.

Accelerate and improve quality of treatment decisions by ad-hoc connecting relevant care team members virtually to medical cases with relevant images at hand.
"When we think about how people share information, it's really important that we use a channel that everyone else is using. Doctors aren't using the XERO viewer all day, so its collaboration functionality isn't always available. Microsoft Teams, on the other hand, is accessible anywhere, anytime, on mobile devices and desktops."
"It's a good example of the innovation in healthcare that has been triggered by the pandemic. Some of our customers in healthcare are seeing three-, four-, or five-years' worth of transformation happening in a matter of months."
"This has proven to be an indispensable tool for collaborative working during the current social-distancing constraints. Its functionality allows clinicians to remotely share and discuss individual cases securely on any device, including mobiles."