Teleworking together, for the patient: The COVID-19 crisis has 'brought home' the importance of extending diagnostic activities and collaboration beyond the hospital walls.
Remote reporting: the 'at-home' advantage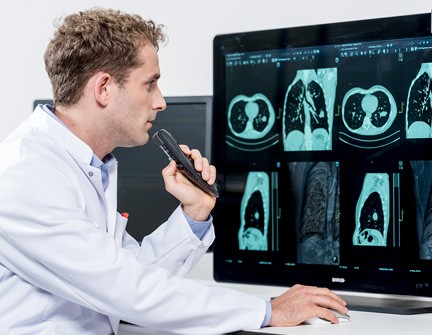 With Enterprise Imaging, radiologists can be as productive at home as in the hospital, with the same user experience. At home, on the ward or in the office: each member of the patient care team has the flexibility to remotely carry out tasks, create reports, make decisions and collaborate, to deliver patient care whatever the circumstance.
Enterprise Imaging keeps an 'eye' on all tasks, using the rules-based workflow engine to drive them directly to the right radiologist, and then make sure no task gets delayed or lost.
Read more about it in the expert article by Bob Craske, Director Enterprise Imaging for Radiology
---
Remote collaboration: when teamwork has no boundaries
Bring multidisciplinary teams and experts together, wherever they are, to create seamless care pathways across departments, hospitals and regions. Each participant in a conference or team meeting can interactively share and manipulate images, in real time, while communicating using visual tools and instant messaging. You enable multispecialty care collaboration, on a single platform!
---
XERO Universal Viewer and Microsoft Teams integration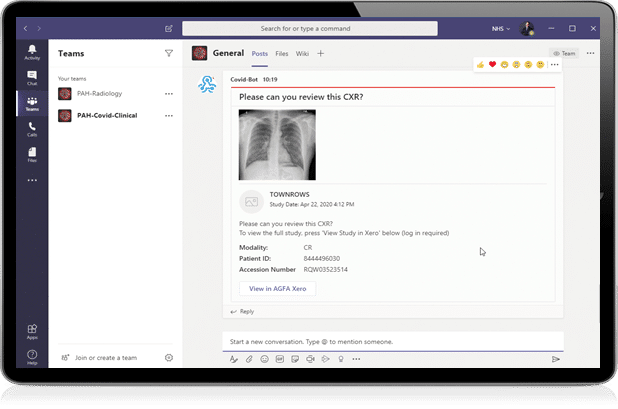 Agfa HealthCare has been working closely with customers to support their cooperation and remote work needs during the COVID-19 crisis. When in March 2020 Microsoft Teams was rolled out in England and Scotland to all users of the NHS collaboration service, Agfa HealthCare quickly integrated Enterprise Imaging and the XERO Universal Viewer with Microsoft Teams.
The deployment of the integrated solution at Princess Alexandra Hospital NHS Trust in the UK allows over 450 users across the Trust to quickly and securely share urgent imaging results.
Read more about the use case at Princess Alexandra Hospital NHS Hospital Trust
---
Interested in more ?
At the upcoming RSNA All Virtual we will be hosting a series of expert webinars on Remote Working and Collaboration.
Reach out to attend and schedule your consultation with our experts today.