On 24 April the Agfa HealthCare UK and Ireland team facilitated the Spring 2019 Enterprise Imaging (EI) UK User Group Meeting. The location was central Birmingham. Chair and moderator for the 2019 meetings was Dr. Nick Spencer, Consultant Radiologist from The Mid Yorkshire Hospitals NHS Trust. 20 individuals from 10 different healthcare organisations and NHS hospital trusts gathered to hear more about Agfa HealthCare Enterprise Imaging and other solutions.
Dr. Nick Spencer kicked off the event with a welcome and introductions. This was followed by Caroline Bogaert, EI Product Manager, Agfa HealthCare discussing the EI Roadmap and the development, testing and feature request process.
The next speaker was Dr Ian Wacogne, Associate CMO for IT and Information from nearby Birmingham Women's and Children's NHS Foundation Trust. Ian made time in his extremely busy schedule to discuss the importance of PACS and Imaging sharing as part of a healthcare organisations wider IT strategy.
This was followed by Keynote 1: Adopting Enterprise Imaging by Kris Weavill, Diagnostic Systems Coordinator, Northern Lincolnshire & Goole NHS Foundation Trust. Kris described their journey from IMPAX to EI following the go-live in February 2019. The presentation's content was well received by the audience, many of whom will be moving from IMPAX to EI over the next 12 months. The insight given, and questions received continue to prove valuable for customers' who are planning their projects.
During lunch, delegates also had access to the Demo Zone where Agfa and Qaelum provided demonstrations of imaging and dose management solutions.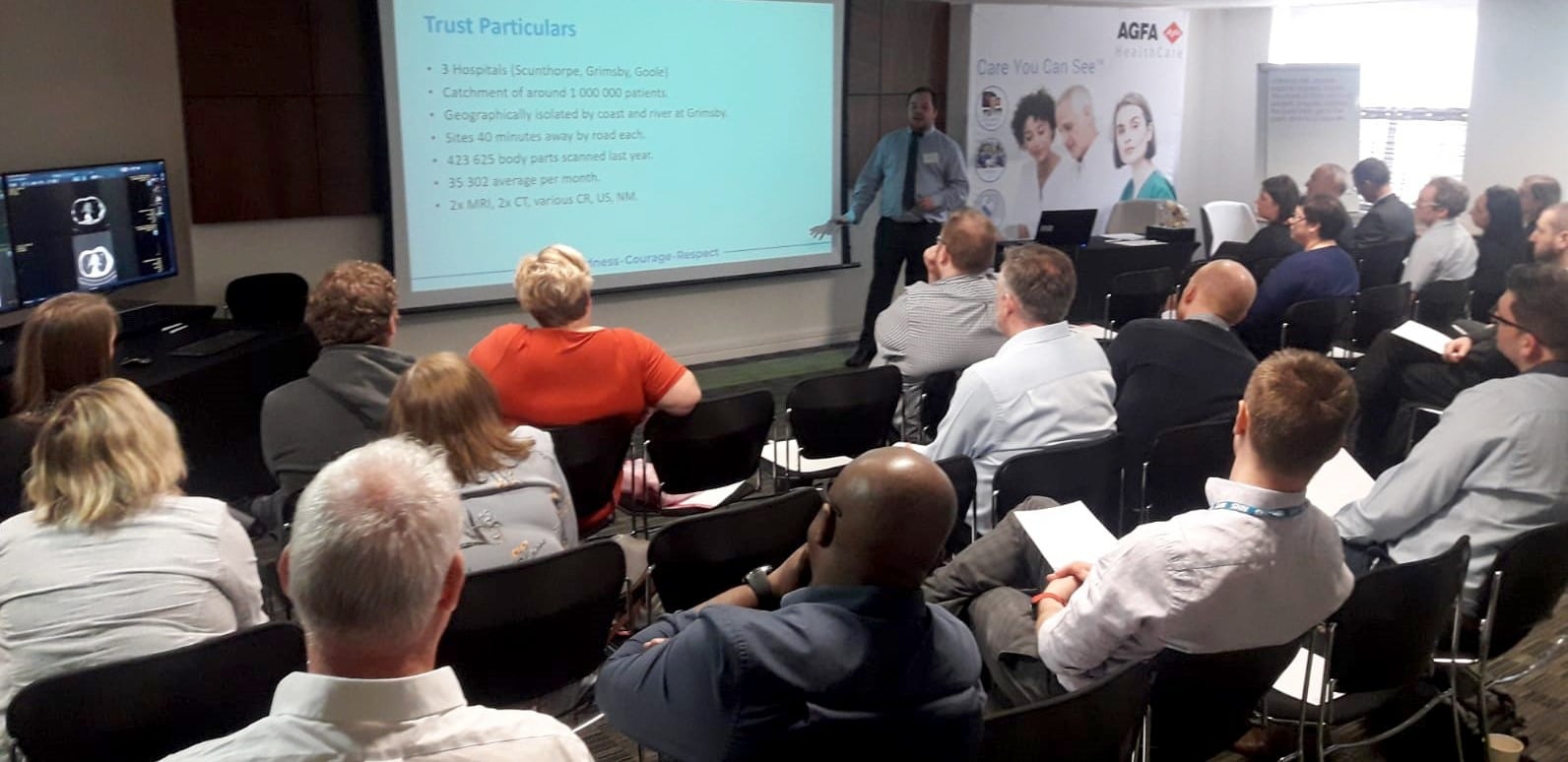 Following lunch Ronny Van Wunsel, Senior Product Manager, Agfa HealthCare presented on EI Applications, Tips and Tricks focusing on Hanging Protocols, Series Sorting and Relevancy Rules.
This was followed by Keynote 2: Practical AI in Radiology by Anjum Ahmed, Global Product Marketing Director, Agfa HealthCare. Anjum provided and update on Agfa HealthCare's use of AI as part of the Enterprise Imaging platform ensuring value-based application and improving outcomes.
The final presentation of the day was from Wayne Warfield, Business Development Manager, Qaelum who provide an overview of their Dose Management solution,
Nick then hosted the final session which included questions, feedback and actions for the future meetings.
Feedback from delegates has been positive. The goal was to ensure that all delegates could gain beneficial insight to support them in their roles and projects both today and in the future. Agfa HealthCare will continue to work with the EI User Group Chair, Dr. Nick Spencer and the customers to facilitate UK meetings in the Autumn 2019 and 2020.
For further information on the Enterprise Imaging UK User Group Meetings please contact paul.jackson@agfa.com