When a patient needs imaging, the intervention itself is only a fraction of the imaging journey, which begins well before he pushes open the doors to your facility and continues well after he has left for the day. Having a full view of this journey may have a beneficial impact lowering risk, improving the patient's satisfaction and the ultimate delivery of care. So, while many hospitals have successfully optimized the procedures from admission to discharge, radiology needs the tools to look farther – in both directions.
Stay on track with your patients
With our Engage suite, you can accompany the patient on every step of the imaging journey, in order to perform radiology exams in the best possible circumstances: for you, your staff and, of course, your patient.
Let's take a look at one example: a patient with severe walking issues caused by major stenosis in the femoral artery is scheduled for an interventional PTA (percutaneous transluminal angioplasty). A smooth, efficient and pleasant experience will optimize care quality, patient satisfaction and departmental resources.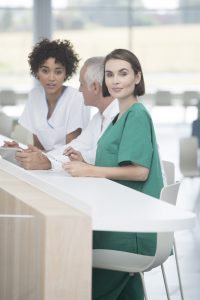 Well informed and well prepared
But how often do exams get delayed or even rescheduled because the patient isn't properly prepared, or you don't have all the information you need?
With Engage, you can collect all relevant medical data about the patient (such as lab results), provide instructions, obtain patient consent – even arrange patient transportation. The patient can fill in forms and ask questions in advance, the radiology department can organize its resources more efficiently, and you can check on any potential risk issues.
Share and exchange
Your role in the patient's care journey doesn't end after the intervention: you have valuable guidance to share with the multi-disciplinary team. For our PTA patient, you can verify the compression is checked for the puncture site, wound care is effective, the pressure bandage is removed at the right time, anticoagulation prescriptions are provided, and an appropriate interventional radiology care plan is set up. By standardizing these procedures, you can help reduce the risk of adverse events or reactions and improve the overall quality of care.
In step with patient engagement
Facilitating positive outcomes require good patient engagement: with Engage you can check the patient's satisfaction with the care he received and send out questionnaires at specific intervals to monitor his status and progress (PROM and PREM). Questions can be tailored to his situation and procedure: "How far can you walk? What color/temperature is your leg? Are you experiencing any complications? Are you taking your medications?" This communication not only gives you real visibility and insight into the patient's outcome, but also lets you learn from his experience, so you can continuously adjust procedures to improve care quality.
Visit us at ECR 2019, to find out how the Engage suite can streamline your patients' imaging journeys, from scheduling, to preparation, to monitoring and follow-up.