Radiology plays a central role in enabling timely diagnosis and treatment. But with the increase in care networks and the shortage of qualified radiologists, fewer and fewer sites have a dedicated radiologist 24/7 for exam reading and reporting. Let alone on-site experts in the different specializations, such as neuroradiology and pediatric radiology.
You need to find a way to provide fast, round-the-clock imaging services, even at busy times, without bursting your budget.
Enterprise Imaging can't actually replicate radiologists, but it can enable you to close the gap between the reading radiologist, the image acquiring site and the ordering site. With the Shared Reading Workflow, radiologists can read and report, from anywhere, at any time, for one facility or many!
Under pressure
Sharing images between sites, colleagues, tumor boards and other multi-disciplinary teams, using Enterprise Imaging, can already improve collaboration and decision-making, while reducing repeated imaging procedures.
The Shared Reading Workflow is the clear next step: enabling radiologists off-site to handle reading, reporting and approval tasks, and keeping the imaging workflow moving 24/7. Every type of healthcare facility, whatever its resources or budget, can have the image reading and reporting services it needs.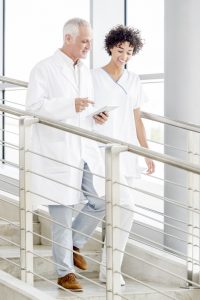 Smooth operator
Enterprise Imaging centralizes all reading and reporting tasks for all the collaborating hospitals in a shared task list. It uses a rules-based, task-focused workflow to automatically assign the right tasks to the right radiologist, whether based on availability, specialty and expertise, etc.
The radiologist can remotely access the worklist and reporting tools. After the radiologist completes the reading task, the report is automatically sent to the correct care site. To make sure no task gets lost or forgotten, the Shared Reading Workflow will automatically reassign any task that isn't completed in the specified time.
Hospitals and departments can also use the Enterprise Imaging business intelligence tools and dashboards to make sure they are meeting their service level agreements for reading and reporting.
Desktop or mobile: anywhere, anytime
As a radiologist, you can view images, task lists and prior exams and studies, and then report or review, on a diagnostic desktop or on any internet-connected device using the XERO universal viewer. The diagnostic desktop gives you integrated reporting, speech recognition, sophisticated hanging protocols, advanced image processing capabilities and more. The XERO viewer adds mobile technology and enables you to access images and basic reporting tools using any common internet browser.
Sharing images between sites and facilities can already help improve patient outcomes.
At ECR 2019, let us show you how the Shared Reading workflow keeps radiology front and center, everywhere, anytime !