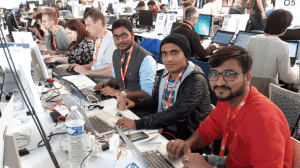 Meet the Agfa HealthCare team that is present at the European IHE Connectaton, taking place in Rennes, France.
Over the past 18 years, Agfa HealthCare has been contributing to the Connectathon that allows face-to-face testing in a controlled, supervised and neutral environment.
This year, more than 83 systems of 67 different companies are participating in this testing week. Agfa HealthCare solutions in the spotlight at this edition are HYDMedia and Engage Suite. The IHE profiles enable the seamless and secure exchange of health information for both providers and patient. Participating systems test the conformity to IHE Profiles by using validators and interoperability between systems following clinical workflows.
HYDMedia also takes part in the national Swiss EPR projectathon that runs in parallel.  Specific workflows of the national Swiss EPR based on IHE profiles (XDS.b, PIX, XUA) are being tested.
Stay connected and subscribe to the IHE Europe new pulse.